Anton Nanut
CONDUCTOR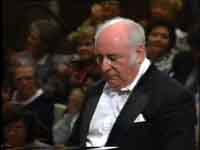 A short biography:
Anton Nanut was born at Kanal ob Soci in Slovenia, on 13th Sept. 1932. He studied at the Ljubljana Music Academy and started his career as the regular conductor of the Dubrovnik City Orchestra. During his Dubrovnik period, Nanut appeared as a guest conductor in London, Prague and Warszaw, with his Dubrovnik orchestra he toured Hungary, Italy and Austria.
After leaving Dubrovnik Maestro Nanut became the leading conductor of the Slovenian Philcharmonic orchestra in Ljubljana and head of the conducting department at the Ljubljana music Academy. With the Philharmonic Orchestra he toured Italy, Austria, Belgium, Germany, Poland, Soviet Union and USA.
Since 1981 Nanut has been the chief conductor of the Slovenian Radio Symphony Orchestra concentrating on recordings for the radio and TV network, as well as touring in the USA (incl. Carnegie Hall), Italy, Austria, Poland, Bolgaria, Mexico, Germany, Switzerland and Hungary.
The critics and musicians have special respect for Nanut's musical directness and outstanding vision in recreating the musical material of various styles. He displays his complex and eruptive fantasy most effectively in long musical structures that are lyrical and at the same time dramatical, monumental. He has proven this on many occasions conducting his own orchestra or upon guest appearances with Dresden Staatkappelle, the Berlin Radio Symphony, the Mexico City Philcharnonic orchestra and others.
In the recent years, Nanut conducted the Slovenian Radio Symphony Orchestra during recordings for over 150 compact discs distributed throughout the world, and released in the States mostly by Stradivari Classics. Several of the recordings received superb critics by the musical press.
Apart from his artistic work with the Slovenian Symphony, Nanut was very active as the conductor of the Slovenian Chamber Orchestra and the world known vocal group The Slovenian Octet.
For his work Nanut received a number of rewards: The prize Milka Trnina, the prize of Slobodna Dalmacija for the performance of Mozart Requiem, The Zupancic prize, the Preseren Prize, the prize of Yugoslav Artists Society, Carnegie Medal, Smetana medal, Golden medal Milano etc.
---
Andrej Nanut
Copyright © 2015 [Andrej Nanut].